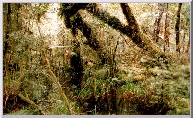 Ptangia Jungle

Location: South of Draemar Wood

Known information:
Ptangia jungle is a great mass of vegetation south of Draemar wood, in which the first humans to walk the realm are thought to originate. During your exploration of this region you may come across tribal villages, but only once you have navigated the raging river which runs finally into a vast lake full of unusual life. Also look out for the mysterious lake of fire, as well as the fearsome jungle beasts.

Somewhere in the depths of the forest, if you're lucky, you may find a path through to the lands beyond. But beware! Many adventurers have been lost on journeys in search of this elusive trail.