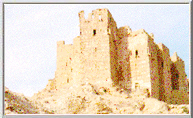 Desert Fortress

Population: Occupants unknown
Location: Located on the edge of the Great Desert
Caretaker: Amos

Known information:
At first sight, the fortress looks deserted, but appearances can be very deceptive. It was once home to the Nanveant Desert legion, a force made up of people from all races. Entrance into this army was never denied, and refuge was always freely given. However, little has been heard of these soldiers in recent times. Rumour has it the whole fortress has vanished from the face of Nanvaent.

The fort is an immense sandstone structure that dominates the eastern skyline of the Great Western desert. It was built from rock carved in ancient desert quarries and the nearby mountains. The facilites there are very basic, but enough to keep the occupants happy. During times of war the fort also has adequate facilties in its dungeons to cater for a large number of prisoners.

Rumour has it that a skaven mercenary army was hired to capture the fort by a mysterious warrior with the supposed powers of an ancient demi-god. The reason for this are as yet unknown. The fort is said to have been taken by suprise by the skaven using a secret underground network of tunnels, attacking the fort from the inside. As yet these rumours have not been confirmed. Parties sent to gather information have never returned......