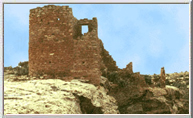 Mimbre

Population: Orcs and others...
Location: Beyond the Great Western desert
Caretaker: Egwine

Known Information:
Once a quiet, peaceful village nestled within the mountains, Mimbre has since been overrun by evil forces who reduced this hamlet to ruins. Rumours hint that this force is merely a foretaste of what is to come from the west. Nothing is known of the fate of the residents, though it has been said that they fell foul of the citizens of a nearby land known as Kordonia. However, four new residents have come to fill the gap...