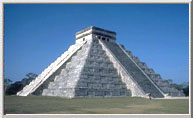 Nazca

Population: Human, of the Nazcan variety
Location: Out within the Great Western desert
Caretaker: Elfie

Known Information:
A civilisation hidden away in a valley in the mountains that line the the edge of the Great Western Desert. Displaying a marked Incan influence, Nazca was long cut off from the world, a solitude broken only by the occasional nomad caravan. In recent years, it has been influenced by two dramatic events: a landslide revealing the entrance to the valley, and the advent of a reign of terror which transformed the once peaceful temple into a place of evil and shadows. An area to be avoided by the less experienced.