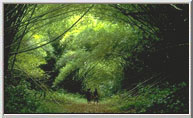 Thorny Wood and Raskin manor

Population: Various wildlife, including wolves
Location: On the edge of the Great Western Desert.
Caretaker: Glade

Known Information:
Thorny Wood is considered to be a hazardous place by even the most hardened travellers. It's abundance of twisted and evil life is enough to scare most off before they even venture below the dark canopy. Journeys within comonly meet with danger and it would be wise not to travel alone. Deep within the wood lies the track to Raskin Manor, an accursed place by all tales.

Raskin Manor holds many dark secrets still yet untold but one has passed the lips of many. That of the treachery and meddlings of a young James Raskin. It would take a brave soul to try and lift the curse upon the manor, but rewards would be high and gratitude everlasting.